The Papanui office will be closed for 5-6 weeks, from Wed 13 September.  Sabrina will be taking care of emails and can be contacted with any other queries during that time.
New cycleway on Ilam Rd, between Memorial Ave and Aorangi Road.  Traffic Impacts – a one way system will begin on Monday 11 September – traffic will travel northbound (southbound traffic will be detoured) so there will be no access to Ilam Road from the Clyde Road roundabout.  Footpath access around the work site will be maintained. Estimated completion is end of December.
Our Sunday Sermon is usually posted to the Village Church website on a Monday.  If you can't be at Church on a Sunday and would like to read the Sermon, you'll find it under the 'Reflections' heading – go to www.villagechurch.nz
If you would like to go on the list to receive the Alpine Presbytery Newsletter each week you can email Gail at office@alpinepresbytery.org to subscribe.
October Birthday Friends:
On Sunday October 15th you and your significant other are invited to join together at 6:30pm to celebrate the October birthdays.
The Village – is going Pink for a Day! Sunday 22 October @ 10am. We are raising money for the Breast Cancer Foundation in support of those in our community with breast cancer, via donations on the day and ongoing online giving at https://takeaction.org.nz/page/ittakesavillage.
Think (and wear) pink!
Halloween Celebration –
Combined Service and Feast on 29 Oct We are looking forward to sharing this occasion- our last feast for 2023.
We thank those who have agreed to make a fruit pie for dessert and request that the rest of us bring a salad or vegetable dish to share. The meat will be supplied.
As per usual the hospitality team thank those of you who help out on the day. Things like setting up, packing up, and of course working in the kitchen. We look forward to being together. Please come.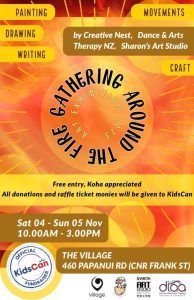 Art Exhibition 2023 – Papanui
Roster Reminder – Sun 22 Oct:
Setup: Kate and Liam B.
Welcoming: Christine A. Jenny A. and Trevor A.
Reading:  Mary Jo and Jean D.
Counting: Christine M. and Andrew S.
Morning Tea: Margaret W.  Hannie and Frik
Technician: Asher
Grounds at Bryndwr (Sat 21): John C.
Oct
Time
Event
Venue
Sun 15
10.00am
Worship Service
Bryndwr
5.30pm
Youth Music Practice
Bryndwr
6.00pm
Table Talk
Papanui
Mon 16
9.30am
Music Moments
Papanui
10.30am
Painting Group in the Creative Nest
Papanui
Tue 17
10.00am
Fly-Bys Visiting
Bryndwr
10.30am
Creative Nest
Papanui
Wed 18
9.45am
Badminton
Papanui
10.00am
Pre-School Music
Bryndwr
Thurs 19
11.30am
Midweek Worship Service, followed by lunch
Papanui
6.30pm
Youth Group
Bryndwr
Sat 21
9.30am
Clothing Shop
Bryndwr
Sun 22
10.00am
Worship Service
Bryndwr
10.00am
Worship Service, St Andrew's at Rangi Ruru
Rangi Ruru
5.30pm
Evening Circle at the McKs
ph office for details